Monday, July 18: POETRY READING with special musical guest PHOTOPLAY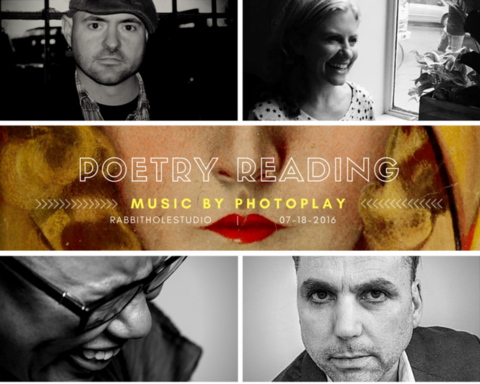 The Poets: Denver Butson / NicoleCallihan / Terence Degnan / Patricia Spears Jones
Musical Guest: Photoplay
Denver Butson is the author of three previous books of poetry: Triptych, Mechanical Birds , and Illegible Address, and the newly published The Sum of Uncountable Things ( Deadly Chaps Press, 2015 ). A New York Foundation for the Arts Fellow, a Campbell Corner Poetry Prize "Distinguished Entry," and a frequently featured poet on National Public Radio's Writer's Almanac, Butson appears in anthologies edited by Billy Collins, Garrison Keillor, and Agha Shahid Ali. His poems have been published in The Yale Review, Ontario Review, Caliban, Willow Springs, Exquisite Corpse, Field, Quarterly West, and elsewhere.
Nicole Callihan's work has appeared in PANK, Forklift, Ohio, American Poetry Review, Painted Bride Quarterly and as a Poem-a-Day selection from the Academy of American Poets. Her books include SuperLoop, a collection of poems published in early 2014, and A Study in Spring, a chapbook which she co-wrote with Zoe Ryder White and which was released in November 2015. Nicole's latest chapbook, The Deeply Flawed Human, will be released by Deadly Chaps Press in July 2016.
Terence Degnan is the author of The Small Plot Beside the Ventriloquist's Grave, and the forthcoming Still Something Rattles. Terence produces the storytelling series How to Build a Fire in South Slope, Brooklyn, and curates/hosts the poetry series Poets Settlement in Park Slope. He lives in Brooklyn with his wife and daughter. 
Arkansas born and raised; resident of New York City for more than four decades, Patricia Spears Jones was named by Essence.com as one of its "40 Poets They Love" in 2010. She  is author of the poetry collections: Painkiller and Femme du Monde from Tia Chucha Press and The Weather That Kills from Coffee House Press and five chapbooks including Living in the Love Economy. Her fourth collection: A Lucent Fire: New and Selected Poems is out from White Pine Press (White Pine Press Distinguised Poets series). Her work is widely anthologized. In 2015 she received a Barbara Deming Memorial Fund award for her memoir in progress.