Saturday, July 16: MIXED SHOW AMSTERDAM - NEW YORK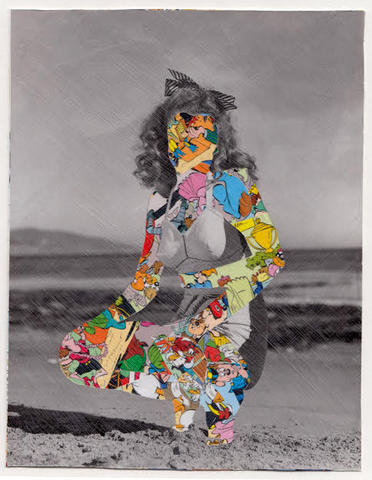 We are a collection of artists based in Amsterdam and New York. We're exhibiting as part of Rabbithole's final show series, celebrating the very last opening days of this awesome studio before it closes it's doors after 12 years. 
For our group show there will be work submissions from:
Lisa Weatherbee | Nessim Higson | Seth Scantlen | Thomas Murphy | Marco Lawrence | Jade Jefferies | Jack Samels | Adam Zoltowski 
A bit more about the artists:
SETH SCANTLEN ~ Artist / Painter from Brooklyn
"Seth's layered compositions seem to ebb towards something darker than the sea, shifting and flexing with figurative familiarities hauntingly appearing through their abstract veils and upon thought after viewing such things, one might ponder that the chaos which surrounds us is not unlike the beauty in Scantlen's paintings."
THOMAS MURPHY ~ Artist / Photographer
Thomas Anthony Murphy was born in New Jersey in 1978, and currently resides in Brooklyn, New York. His two great passions in life are travel and photography. He believes that travel broadens one's view of the world by experiencing other cultures and meeting people from different countries.
Through his photography, Thomas seeks to document his own personal experiences by capturing scenes and events as he sees them, to share with others the beauty and sometimes ugliness of the world he's seen. As the images of other photographers have inspired him to explore the world, he hopes his own contributions will inspire others to do the same.
http://blackandwhitecities.com/
LISA WEATHERBEE ~ Photographer
Lisa Weatherbee is a portrait and lifestyle photographer based in NYC. She is invested in the power that photography has to shape our social consciousness. Her work is a continuing exploration of love, family and the magic of childhood in all of its beautiful forms.
http://www.lisaweatherbee.com/
MARCO LAWRENCE ~ Screenprinter, Illustrator, Designer & Tutor.
Marco Lawrence is a British born printmaker, illustrator and designer based in NYC. He prints commercially for an internationally renowned selection of artists, institutions and museums. Alongside this he is also a successful illustrator and designer in his own right.
NESSIM HIGSON
Nessim Higson is a creative director and artist from New Orleans based in Amsterdam. He has lead creative initiatives for an impressive list of clients that include EA, Adidas, ADC of NY, and DC Comics to name a few. He has worked with some of the world's leading creative agencies including Sid Lee, BBDO, TBWA/Chiat Day, Goodby Silverstein & Partners, and W+K
He believes firmly in a cross pollination of methodologies. He has been showcased in numerous books and magazines that focus on contemporary art and design. His work has also received many competitive design and advertising awards including The One Show, DGV, Cannes, Communication Arts. 
http://www.iamalwayshungry.com/
JACK SAMELS ~ Artist / Graphic designer now based in Amsterdam
Jack Samels is an American visual artist who lives and works in Amsterdam. Born in West Virginia and raised outside Boston, Jack is a graphic designer by trade but spends his time modifying objects around him. Jack's art practice primarily lies within digital and handmade collage.
Combining found images with his own forms, Jack rearranges the content and contexts of the original material and shapes them into his own narrative.
For the Skin Deep series, the photographs of Marilyn Monroe are juxtaposed with cartoon skin to highlight the misleading screen presence of a deeply tragic person. The comics are constrictive and rather than heal and help, the humor masks the trouble underneath.
JADE JEFFERIES ~ Illustrator/ risograph / letterpress
Jade is an illustrator and designer from London, based in Amsterdam and Berlin.
All prints are made by herself or by buddies with silkscreen, risograph, wood block, letterpress and gocco. She's interested in characters and colours that go together with a bang.
ADAM ZOLTOWSKI ~ Adam is an Artist and Designer based in New York City
Though trained as a painter, he now works with pen and ink. He grew up 4 hours north of New York near Ithaca, NY and developed a deep connection to nature. Adams father, who was a professional carpenter, taught him both furniture making and wood carving techniques. As a result, Ihe developed a fascination with the natural textures and patterns found in indigenous species of hardwoods in the Northeast and the stories they tell. His current work explores these textures and patterns in both literal and abstract ways.