Saturday & Sunday, July 30 & 31: MODERN STORYTELLER: New Media and Interactive Design Show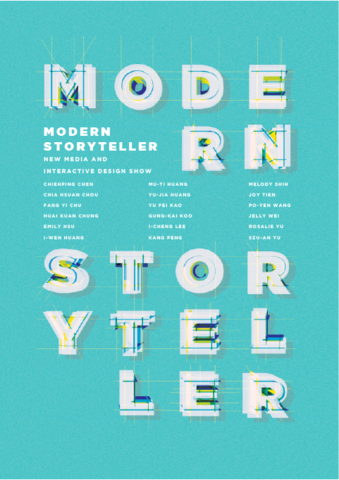 Modern Storyteller: New Media and Interactive Design Show is an exhibition showcasing projects from 18 up-and-coming Taiwanese designers and artists. The exhibition renders the mixture of diverse perspectives and personal or impersonal outlook from each artist. Conceding with the liberty to choose their own subject and use of media, exhibitors deliver their own "story" through distinct methods and approaches, such as prototypes, films, installations, or motion graphics.  The exhibition will launch its grand reception on July 30 th at 7:00pm. For more information about "Modern Storyteller - New Media and Interactive Design Show," please visit  www.modernstoryteller.org.
List of artists and designers and their projects:
Chiehping Chen / WhatUshare
Chia Hsuan Chou / Social Network Zoology
Fang Yi Chu / herbalab - website
Huai Kuan Chung / Beyond Big Project
Emily Hsu / Tippi-Tot
I-Wen Huang / Reenactment: Film Series x Readymades
Mu-Ti Huang / Level On
Yu-Jia Huang / Amelie_Instagram Video
Yu Fei Kao / Revenge
Gung-Kai Koo / What The Egg?
I-Cheng Lee / nowhere
Kang Peng / Animals in Taiwan: A multimedia Pop-Up Gallery
Melody Shih / Cacophony
Joy Tien / TREASURE NEST
Po-Yen Wang / Atlas series
Jelly Wei / Window
Rosalie Yu / Embrace in Progress
Szu-an Yu / ANOTHERSCAPE: An Archive of Urban Fiction