Thu Mar 21st: TOM RAMON vs FUCKINTOSH (live) + "The Firemen's Ball" by Milos Forman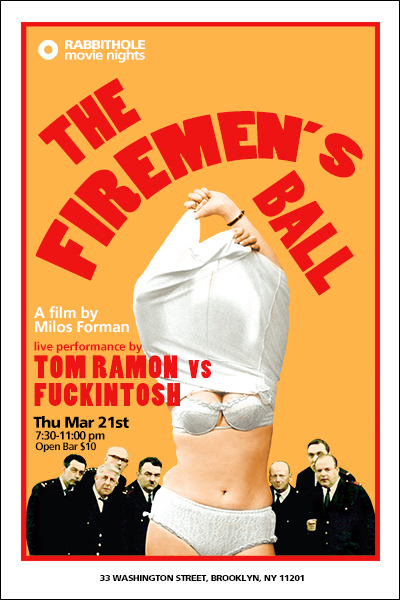 Movie Nights at the Rabbithole continue this month with a screening of Czech filmmaker Milos Forman's "The Firemen's Ball", the film that pushed Forman into exile from his native country, opened by a one of a kind live performance by TOM RAMON vs FUCKINTOSH. 
8pm : TOM RAMON vs FUCKINTOSH
"When the sounding worlds of Tom Ramon vs. Fuckintosh collide, prepared piano sounds are hunted by manipulated CD's. Meaning, a vintage wurlitzer will pussyfoot between Fuckintosh's rhythms controlled by a converted record player. Their obsessed admiration for improvised music is in the offing as soon as the first note or noise or sneezer drops." 
Fred Zafer
8:30pm : THE FIREMEN'S BALL
A must see classic! Director of "One flew over the Cuckoo's nest", "Man on the Moon" and "Amadeus" to name a few… this is Milos Forman's first color film, and the last one he filmed in his mainland Czechoslovakia before going into exile. The film is a masterful slapstick comedy that focuses on the disastrous annual ball of a small town's volunteer fire department. The casts are mainly non actors who are actual firemen from the town this film was shot in. In its portrayal of the collapse of well-intentioned plans, and hence the prevailing corruption of this local community, the film has widely been interpreted as a satire on the East European Communist system, and it was "banned forever" in Czechoslovakia following the Soviet invasion of 1968. Luckily Truffaut and Godard picked up the rights to the film as Forman was facing 10 years imprisonment for "economic damage tot he state", and saved this czech new wave beauty.
Not to miss!
See you there.