Thu May 16th: Screening "Branded to Kill" by Seijun Suzuki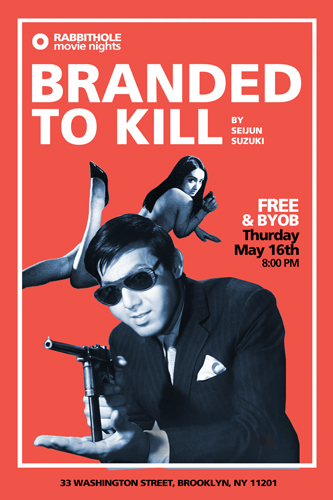 Rabbit movie nights are felling a bit nostalgic, so we are going back to the way we used to do it. This next Thursday May 16th, we're doing a FREE screening BYOB! Bring your favorite drinks and snacks. Just like the old days. Don't miss this!
8:00 PM 
BRANDED TO KILL, 1967
is a unique rendering of the Yakuza (gangster) genre, part film noir, part surreal satire, this movie is known for it's rather hard to follow storyline, and avant grade qualities which gained it's place into the Japanese New Wave movement. 
The story follows Goro Hanada in his life as a contract killer. He falls in love with a woman named Misako, who recruits him for a seemingly impossible mission. When the mission fails, he becomes hunted by the phantom Number One Killer, whose methods threaten his sanity as much as his life.
Suzuki was a visionary and ahead of his time. Due to the Nikkatsu Studio's many warnings to Suzuki to avoid his lavish un-commercial style, the production of 'Branded to Kill' was limited to a low budget and purely black and white film (most of Suzuki films are characterize with pop colors). But these restrictions only allowed more creative initiatives from the director. His eccentric style cost him the boot from the major production company, blacklisting him for the next 10 years. Only later in the 80's was Suzuki acclaimed master cult director by counterculture critics and the likes of Jim Jamusch and Wong Kar-Wai. 
See you soon!