Thu OCT 18th: August Wells (live) + "The Daughters of Darkness" by Harry Kümel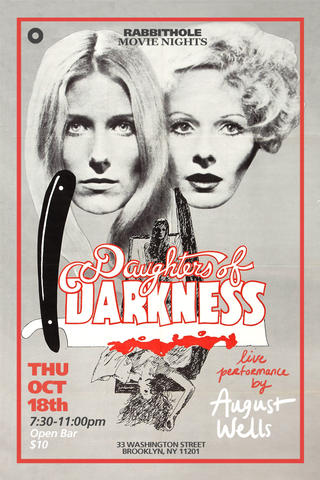 Rabbit Movie Nights are back! with our halloween special on this october 18th. We'll be screening 1971 vampire horror flick "Daughters of Darkness", directed by Belgian director Harry Kümel, opened with a live performance by August Wells.
8pm: AUGUST WELLS:
"Up on a hill, near a city that once bustled, but is now inhabited by people who have lost things like teeth, limbs and love, a man is singing.  His voice, beautiful, broken, makes everything around it fall quiet. Everything but the other instruments that swell up for emphasis, then fade back, tumbling down and down and down."
This is August Wells, a collection of songs and arrangements with vocals, electric guitar and piano with violin, percussion and various wind instruments. At its heart, Ken Griffin who has wandered the world and its venues with Rollerskate Skinny, Kid Silver and The Favorite Sons.   Accompanying Ken along the way, John Rauchenberger on piano with Sasha Vine and Louis Schwadron"
 -- Maggie Estep 
In Dublin and London, Ken Griffin recorded Shoulder Voices for Beggars Banquet label and Horsedrawn Wishes for Warner Bros. Records with Rollerskate Skinny and Dead City Sunbeams with Kid Silver. In New York City, with The Favourite Sons, Ken recorded Down Beside Your Beauty and The Great Deal of Love. 
John Rauchenberger is a New York City piano player who has played with The Favourite Sons, Maggie Estep, J.C Morrison, Dee Pop, Daniel Carter and Dave Sewelson. 
Sasha Vine is a Violinist from London England who has performed with The Sian Alice Group, Mike Bones, Ryan Sawyer, Patrick Holmes and Charles Gayle. 
Louis Schwadron leads the psych-pop band SKY WHITE TIGER and has recorded and performed with artists as far reaching as Radiohead, David Bowie, Elton John, Sufjan Stevens, Grizzly Bear, The National, St. Vincent, and a batch of supporting US tour dates with Rufus Wainwright.
8:30pm: DAUGHTERS OF DARKNESS:
This 70's Belgian horror flick, is a classy erotic vampire film based on Sheridan le Fanu's gothic novel "Camilla", the classic tale of a lesbian vampire. Director Harry Kümel directs with stunning visuals, and reflects in many ways the campy lightness of Jean Rollin's stylish redemption horror genre. Delphine Seyrig's exquisite performance as the Countess Bathory is most notable is this film, resembling strangely a young Marlene Dietrich. 
Thursday October 18th, 2012
Door is $10 with Open Bar!
Starts at 7:30 pm.
Don't miss it!