Thursday June 19th: BinAural/Visual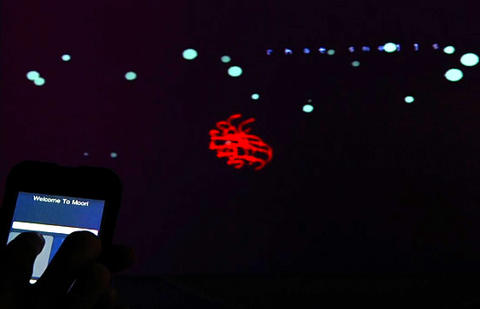 Rabbitholeprojects is proud to present: BinAural/Visual

Thursday, June 19 2014

730pm-1030pm
$5 suggested donation

Bubblyfish presents::

| moori |
http://www.bubblyfish.com/moori/

Moori allows audience members to participate in an interactive performance. Using their own mobile devices, the audience shares their thoughts via text message and multi-touch input. This user-generated data is uploaded through local wi-fi and used to generate live algorithmic audio and visuals, as well as manipulate the performer's works. The result is a collaboration between performer and audience; a real-time audio-visual composition and a dramatic narrative..

Moori is an ongoing development project. It was exhibited at NamJunePaik (NJP) Art Center in Korea as an interactive installation and presented at ACM Creativty & Cognition 2011
Moori is an interactive performance combining audience-participatory narrative and audio-visuals. Moori allows users to build real-time collaborative storytelling through exchanging messages. Dynamic narrative is established through open dialogue among participants and through questions and answers posed by audience and the system.
Bubblyfish is Haeyoung Kim. Based in NYC, she has worked as a sound designer,audio engineer, and interactive artist. Her work has been presented in various museums, clubs, festivals, and galleries including The American Museum of the Moving Image, PS1, Mutek, File Festival, Lincoln Center Walter Reed theater, and Kunsthalle Wien. http://www.bubblyfish.com/AboutMe.html
This performance will be augmented with content and support by musician Alex Kiefer. http://exilefaker.info/


Presented by

I/O - Chip Music NYC
iochipmusic.com

I/O Chip Music's sister show, BinAural/Visual is a showcase of mixed media art and music. The aim is to provide a space and audience for artistic and experimental endeavors of mixed media artists, chip musicians and visual artists.