Wednesday, June 15: Down The Rabbithole with Lauren Beirne Dance Works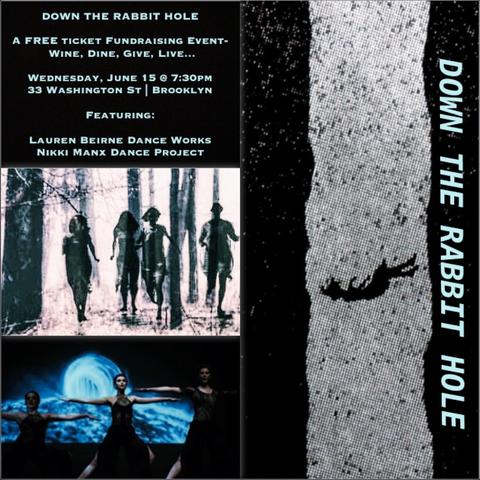 LAUREN BEIRNE DANCE WORKS AND NIKKI MANX DANCE PROJECT PRESENT: DOWN THE RABBIT HOLE
Wine, snacks, music, dance, raffles. All your downtown dance needs in a Brooklyn arts institution that is sadly on its way to greater pastures...

Featuring:
LBDW
NIKKI MANX DANCE PROJECT !! 

Come see firsthand pieces of our repertory, demonstrations of our process, and witness our work in an interactive way that you haven't yet experienced, and SUPPORT LOCAL ARTISTS in their Fundraising efforts!
Come eat, drink, raise awareness, and be inspired!
A FREE TICKET, INTERACTIVE, FUNDRAISING EVENT  7:30- 10:30 PM