ON VIEW
OBSCURE OBJECT FILMS
PHOTOPLAYS by STEPHEN DIRKES
05 APR - 30 APR 12
OPENING: THU 05 APR 2012, 6:00 - 10:00 pm
OBSCURE OBJECT FILMS RETROSPECTIVE FILM SCREENING
+ VJ set w/ DJ Vandal
RABBITHOLE
33 Washington Street
Brooklyn, NY 11201
Tel. 718 852 1500
rabbitholeprojects.com
Rabbithole Gallery is pleased to present, "Obscure Object Films - Photoplays by Stephen Dirkes", an exhibition of film, photography, sets, props and painting from the short films of Stephen Dirkes. Opening April 5th and extending to the 30th, this will be the third Rabbithole exhibition for this internationally exhibited artist.
The short films of Stephen Dirkes best embody the historical term for film, "Photoplay", as they are composed of thousands of still images to create an animated visual narrative. Working with still photographers, visual artists and designers, Stephen's work combines and crosses the platforms of multiple art forms. Beginning his creative life as a classical composer, Stephen often simultaneously composes the score as he edits his films. Frame by frame and beat by beat, a film evolves as a tightly synchronized expression of both visual and audio rhythms and structures.
The exhibition features several photo prints of Stephen's long term collaborator, photographer Tal Shpantzer, and a painted story board by artist/ film maker Peter Bill. Also featured are installations of set and prop pieces by Amerinkz, Caroline Pham, Ioana Popescu, Zou Chu, Pamela Liou and Jef Niesen.
At 8pm, a 45 minute retrospective of sixteen short films, curated from short films, stop motion animation, fashion films, music video and tests or etudes will be screened. After the screening VJ's will perform live video remixes of the films to DJ Vandal's live set.
OBSCURE OBJECT FILMS RETROSPECTIVE FILM SCREENING:
(Duration: 45 minutes)
"Insect Dreams" 4:46
"Dr. Valentyn Machines a Heart" 2:19
"Ayaka Nishi Collections" 5:10
"CODEX DOLOR, 563 Aspects of Suffering, Episodes 34, 371 & 92 Presented in Part" 2:00
"J'adore PORN" 1:45
"the Initiate" 1:23
"Proteus Syndrome" 2:43
"the Object" 5:18
"Bullet Proof" 1:40
"Deeper" 4:00
"Shoot N Spin" 1:17
"Obscure Object Parts 1 and 2" 5:00
"Obscure Object Part 3" 4:44
"Obscure Object Part 4" 2:49
"Motion Etudes: Flight" 8:40
"Stephen Dirkes - Director Reel" 4:00
obscureobjectfilms.com
see screening trailer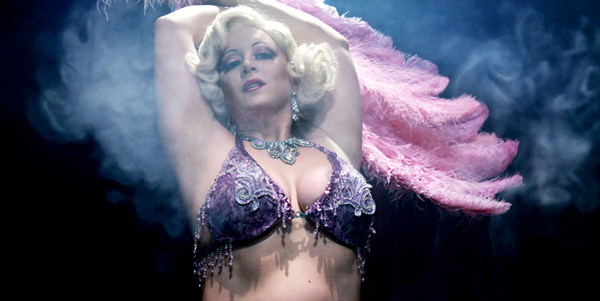 photo by Tal Shpantzer
--------------------------------
Biography:
Currently residing in New York City, Stephen Dirkes, founded and directs Obscure Object Films production company and works as a freelance director, composer and editor.
A devotee of cinema craft and historical avant garde cinema, he has been drawn to explore stop motion and time lapse animation, super 8mm film, stills animation and finding new and interesting ways to incorporate those techniques into the latest in digital film making. As a filmmaker, the rhythm and structure of his picture editing is very closely allied to structures in music and that connection greatly influences his work.
Dirkes studied classical music composition and early music as a teen in Canada at the Royal Conservatory of Music, Toronto and continued at the University of Toronto and the University of Michigan, film sound at Simon Frazer University, Vancouver, BC and Indonesian traditional music at STSI Bandung, Indonesia.
Receiving grants and commissions as a composer and film maker from; McMaster University, Hamilton, Ontario, University of Toronto, Faculty of Music, Canada Arts Council, Ontario Arts Council, Telefilm Canada, Indonesian International "Dharmasiwa" Cultural Scholarship, the Soros Center for Contemporary Arts, Czech Republic and New York State Council on the Arts, Stephen Dirkes work has been widely received and well reviewed.
In 1992 he moved to Seoul, Korea and worked with Young Chang instruments developing Kurzweil sampling synthesizers and embarked on an independent study of Korean traditional musics.
In 1995 he moved to Bandung, Indonesia on a scholarship to study traditional music and established a music production studio. As the music director for Red Rocket Animation, scoring MTV interstitials and short format animation was a great opportunity to work with traditional painted cell animation. Dirkes scored 100′s of television ads, produced music for a few record labels and was able to enjoy extensive study and travel throughout Asia.
In '97 when the currency and government both collapsed, Stephen moved his studio from Indonesia to Prague, Czech Republic and continued to score film and TV commercials and had the chance to work with Czech animation hero Bedrich Glazer (Jan Svankmajer's animator) and in historical "Barandov Studios".
Lots of time spent producing music for several record labels and performing live electronic music (the Lab, aftermath db). He became involved in vjing (VJ Pixalot), new media (Labtest) and taught a course on avant garde cinema and real time performative cinema with Petr Vrana and Standislav Miller in the New Media Department at FAMU (National Film Academy Prague, Czech Republic).
Relocating to the U.S. in 2004, Dirkes founded "Labtest" media art collective to create a VJ performance commissioned for "Hipersonica" international VJ festival in Sao Paulo, Brasil and has continued to vj/dj and exhibit gallery shows, media installations and festival screenings in Berlin, Ghent, Havana, Jakarta, LA, Moscow, New York, Prague, Rio de Janeiro, Rome, Sao Paulo, Seoul and Toronto.
Prior to forming Obscure Object Films in 2009, he was a senior producer/editor for Emmy Award winning production company, Scribemedia.
"Creating film and music continues to hold my interest, gets me creatively charged and lets me learn something new every day." - Stephen Dirkes.
(above video: exclusive interview with Pierre Fichefeux by Paul Anel via landofcompassion.com)
PIERRE FICHEFEUX
The King of Chickens Makes Havoc in Heaven
MAR 01 - 31
Artist Talk w/ Live Performance by Bow Ribbons & Smiles Guthrie: 
FRI 16 MAR 2012, 7:00 - 10:00 pm
Rabbithole Gallery is pleased to present an exhibition of new paintings by French artist Pierre Fichefeux from his series The King of Chickens Makes Havoc in Heaven. Opening March 1st and extending through to the 31st, this will be Pierre Fichefeux's first solo exhibition in New York City. 
In Pierre Fichefeux's paintings, natural landscapes dissolve into cryptic symbols of chaotic animalesque creatures forefronted by figures of the divine. Monsters or Saints, these figures, entangled within the forces of nature and the cycle of life, shine a light on the labyrinth of humanity. Despite his colorblindness, Fichefeux engages his viewers with bold colors spilling his own folkloric fantasies onto oversized canvases with dreamlike textures and compositions. Each painting is a mystical tale representative of Pierre's own experiences layered with references to mythological, religious and literary archetypes. The King of Chickens, one of his iconic divinities, is accompanied in the series by dragons, monkeys and aliens. Through reoccurring father/son themes, Pierre's connection to his own son is also woven into these fables. In these paintings the sense of chaos and destruction seem synonymous to balance and peace. With reference and an apparent reverence for medieval icon paintings, Pierre aims to embody the complexities of beauty itself.
A Paris native, Pierre Fichefeux attended La Sorbonne University and later joined, the creative studio, Fabrica in Italy for three years. Established as a respected designer and illustrator in Europe, Pierre Fichefeux works in more than a few mediums including drawing, animation and painting. His many travels and exploration of the arts have gained him international exposure allowing him to exhibit in many countries – a few of which are France, Bosnia, UK, Italy, Spain, Portugal and Japan. Fichefeux currently lives and paints in New York City where he and his wife are raising their young son.
Biography:
1976: Born in Paris, France
1994-1996: Granted for scholasrship in SORBONNE University in Paris
2000: Joins Y.F. International Agency as a designer
2002-2003:  Resident in FABRICA,  Treviso, Italy
2003 – 2005: Consultant in FABRICA, Treviso, Italy
2006-2009: Joins talkiewalkie agency as a designer
2009: Joins VE art agency as a designer
Currently lives and works in New York
Exhibitions:
2010: Point FMR , Paris, solo painting show.
2008: Colonizacja Lukomira, Bosnia – "LUKOMIRA" group show, mixed media.
2007: Bodhi Gallery, London, UK – "Pier Fichefeux" solo painting show.
Colonizacja Jajce, Bosnia – "Ambassada Neretva" group show, mixed media.
La Sette Chiese Gallery, Bolgna, Italy – "Hugly Beautifull People" solo painting show.
2005: FABRICA VIRTUALE centre georges Pompidou, Paris – interactive installation.
CMYK, Barcelona, Spain. Exposif wallpaper – group exhibition.
Bread and Butter, Barcelona, Spain Exposif wallpaper – group exhibition.
TAG ,la Hague, Netherlands Exposif wallpaper – group exhibition.
Maxalot, Barcelona, Spain, Exposif wallpaper – group exhibition.
SOSO Sapporo, Japan, Exposif wallpaper – group exhibition.
Nippon conection,Frankfurt, Germany, Exposif wallpaper – group exhibition.
Rocket, Tokyo, Japan, Exposif wallpaper – group exhibition.
2004: Fabrica Features bologna italy – "Noir" print portrait, solo exhibition.
Fabrica Features Lisboa, Portugal – "Noir" print portrait, solo exhibition.
1999: Gallerie St. Eustache, Drouot, Paris - "Etude Chayette et Cheval" group sculpture exhibition.
1996: Brussels, Belgium - "Art Brussel", group sculpture exhibition.
Design work, commissions and clients (select list):
2002 – 2005:
Louis Vuitton 150th Anniversary animation
Fabrica Virtuale, video game
Noir, book of portraits, ed. Electa
Drugstore Publicis ,Paris, wallpaper
Pioneer Raku Navi ,AD campaign
Nike "presto" shoes AD
Hotel particulier, Paris, wallpaper and interactive installation
Publications:
Taschen, ILLUSTRATION NOW 3
The Sourcebook of Contemporary Illustration MAOMAO publication
ICON
Victime
Wallpaper
WAD
Marie Claire
Citizen K
Creative Review
Cream
Illustration (Japan)
Madame Figaro (Japan)
Corriare della Sera
Television:
Canal+
TF1
M6
MCM
Pages