ON VIEW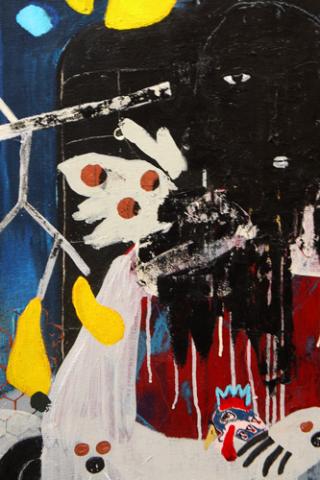 PIERRE FICHEFEUX
The King of Chickens Makes Havoc in Heaven
MAR 01 - 31
Opening Reception w/ guest DJ Taka: 
THU 01 MAR 2012, 6:00 - 9:00 pm
Artist Talk w/ Live Performance by Bow Ribbons & Smiles Guthrie: 
FRI 16 MAR 2012, 7:00 - 10:00 pm
Rabbithole Gallery is pleased to present an exhibition of new paintings by French artist Pierre Fichefeux from his series The King of Chickens Makes Havoc in Heaven. Opening March 1st and extending through to the 31st, this will be Pierre Fichefeux's first solo exhibition in New York City. 
In Pierre Fichefeux's paintings, natural landscapes dissolve into cryptic symbols of chaotic animalesque creatures forefronted by figures of the divine. Monsters or Saints, these figures, entangled within the forces of nature and the cycle of life, shine a light on the labyrinth of humanity. Despite his colorblindness, Fichefeux engages his viewers with bold colors spilling his own folkloric fantasies onto oversized canvases with dreamlike textures and compositions. Each painting is a mystical tale representative of Pierre's own experiences layered with references to mythological, religious and literary archetypes. The King of Chickens, one of his iconic divinities, is accompanied in the series by dragons, monkeys and aliens. Through reoccurring father/son themes, Pierre's connection to his own son is also woven into these fables. In these paintings the sense of chaos and destruction seem synonymous to balance and peace. With reference and an apparent reverence for medieval icon paintings, Pierre aims to embody the complexities of beauty itself.
A Paris native, Pierre Fichefeux attended La Sorbonne University and later joined, the creative studio, Fabrica in Italy for three years. Established as a respected designer and illustrator in Europe, Pierre Fichefeux works in more than a few mediums including drawing, animation and painting. His many travels and exploration of the arts have gained him international exposure allowing him to exhibit in many countries – a few of which are France, Bosnia, UK, Italy, Spain, Portugal and Japan. Fichefeux currently lives and paints in New York City where he and his wife are raising their young son.
Biography:
1976: Born in Paris, France
1994-1996: Granted for scholasrship in SORBONNE University in Paris
2000: Joins Y.F. International Agency as a designer
2002-2003: Resident in FABRICA,  Treviso, Italy
2003 – 2005: Consultant in FABRICA, Treviso, Italy
2006-2009: Joins talkiewalkie agency as a designer
2009: Joins VE art agency as a designer
Currently lives and works in New York
Exhibitions:
2010: Point FMR , Paris, solo painting show.
2008: Colonizacja Lukomira, Bosnia – "LUKOMIRA" group show, mixed media.
2007: Bodhi Gallery, London, UK – "Pier Fichefeux" solo painting show.
Colonizacja Jajce, Bosnia – "Ambassada Neretva" group show, mixed media.
La Sette Chiese Gallery, Bolgna, Italy – "Hugly Beautifull People" solo painting show.
2005: FABRICA VIRTUALE centre georges Pompidou, Paris – interactive installation.
CMYK, Barcelona, Spain. Exposif wallpaper – group exhibition.
Bread and Butter, Barcelona, Spain Exposif wallpaper – group exhibition.
TAG ,la Hague, Netherlands Exposif wallpaper – group exhibition.
Maxalot, Barcelona, Spain, Exposif wallpaper – group exhibition.
SOSO Sapporo, Japan, Exposif wallpaper – group exhibition.
Nippon conection,Frankfurt, Germany, Exposif wallpaper – group exhibition.
Rocket, Tokyo, Japan, Exposif wallpaper – group exhibition.
2004: Fabrica Features bologna italy – "Noir" print portrait, solo exhibition.
Fabrica Features Lisboa, Portugal – "Noir" print portrait, solo exhibition.
1999: Gallerie St. Eustache, Drouot, Paris - "Etude Chayette et Cheval" group sculpture exhibition.
1996: Brussels, Belgium - "Art Brussel", group sculpture exhibition.
Design work, commissions and clients (select list):
2002 – 2005:
Louis Vuitton 150th Anniversary animation
Fabrica Virtuale, video game
Noir, book of portraits, ed. Electa
Drugstore Publicis ,Paris, wallpaper
Pioneer Raku Navi ,AD campaign
Nike "presto" shoes AD
Hotel particulier, Paris, wallpaper and interactive installation
Publications:
Taschen, ILLUSTRATION NOW 3
The Sourcebook of Contemporary Illustration MAOMAO publication
ICON
Victime
Wallpaper
WAD
Marie Claire
Citizen K
Creative Review
Cream
Illustration (Japan)
Madame Figaro (Japan)
Corriare della Sera
Television:
Canal+
TF1
M6
MCM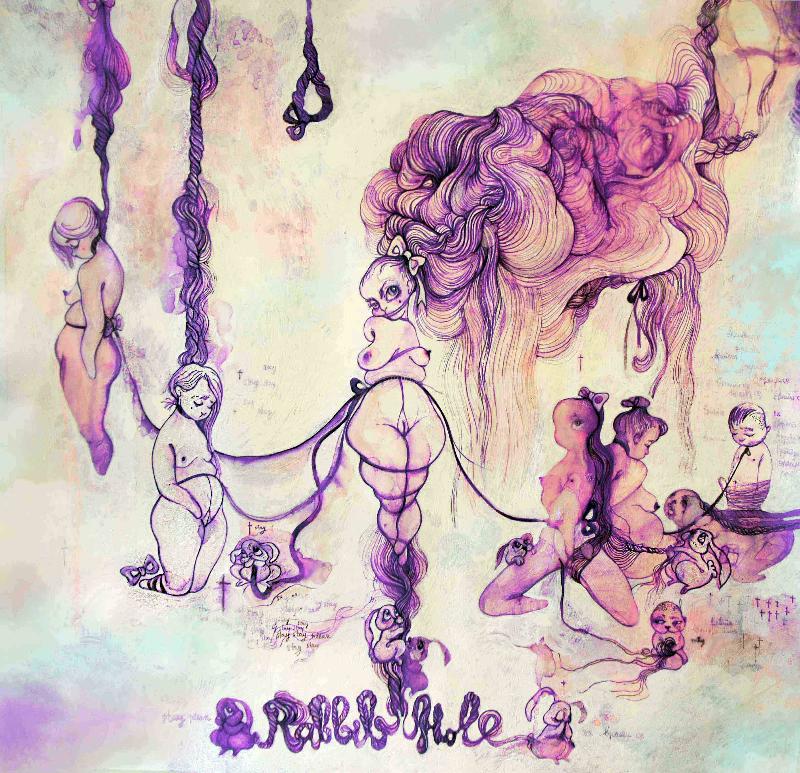 MARINA MARKOVIC
Pressure me.
FEB 23 - 28
Opening Reception w/ Nelson Cordero (nellieneltatoo.blogspot.com): 
THU 23 FEB 2012, 6:00 - 10:00 pm
Rabbithole is pleased to present Pressure Me by Marina Markovic featuring performance, installation, video and a set of drawings. Throughout her career the artist has been exploring her own body and those of others, observing the process of healing from anorexia, pathological behaviors related to food consumerism as well as corporeal rituals.
Markovic has always treated the body as sculptural material and during the performance Pressure me the artist will instruct a tattoo artist to inscribe a pink measuring tape around her waist-line thereby monitoring the future change of her own body and commenting on the burden of a standardized female form.
The installation, composed of objects intimately related to the artist's life and used in their original condition - hospital bracelet from the maternity ward, a color scale of pregnancy tests and religious memorabilia, denotes how everyday reality can be transformed to the status of art. Each segment corresponds to a different need of Markovic's being and as whole signifies a sanctuary representing how she copes with existence in this world.
Markovic's signature drawings recall children's picture books. Juxtaposing infantile fantasy and adult violence, teddy bears, bunnies and kittens are intertwined with sinister themes of death, sickness and fear. Her compositions often depict the uneasy relationship between sexuality and the adolescent body.
Marina Markovic's work envelops consumerism on various levels: food, ideology, media products as well as the image of the body. Her interest has always been on the restrictions, obsessions and control systems of the figure. The opus of Markovic's work focuses on the subject of consumption, whether it is nutritional or commercial, revealing that we manifest most of our emotional needs either through food or merchandising products.
Boshko Boskovic
www.facebook.com/pages/Marina-Markovic/144247035668406?sk=info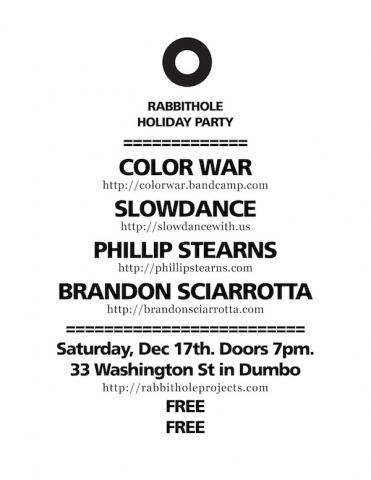 Presented by A COUPLE OF ARTISTS
Gift-ready artworks under $300.  
| two weekends |
SAT 16 DEC: 11:30 - 6:00 pm
SAT 17 DEC: 12:00 - 9:00 pm
Special perfomances by COLOR WAR and SLOWDANCE
with DJ Brandon Sciarrotta
Visuals by Phillip Stearns
Doors 7:00 pm, FREE
Open hot toddy bar from 7:00 - 9:00
SUN 18 DEC: 12:00 - 7:00 pm
Artists include:
Joseph McNally, Noa Charuvi, Marvin Arevalo, Yoav Gal, Keren Benbenisty, Winnie Jeng, Marina Markovic, Helene Picard, Pamela Matsuda-Dunn, Paola Nunez Solorio, Isaac Moylan, Nu Ryu, Alic Trossman, Gabriela Vainsencher, Josh Strauss, Yuriko Katori, Ava Porter, Jeanne Verdoux, Marsha Owett, Yael Ben-Zion, Asaf Rahat, Adi Shniderman, Merav Ezer, Gilad Kidar, Amir Nevo, Zohar Kfir, Jody Simonian, Linda Griggs
Pages