Thu Sept 19th: Sugarlife (live) + "The New Harmony" by Jesse Karch & Dylan Latimer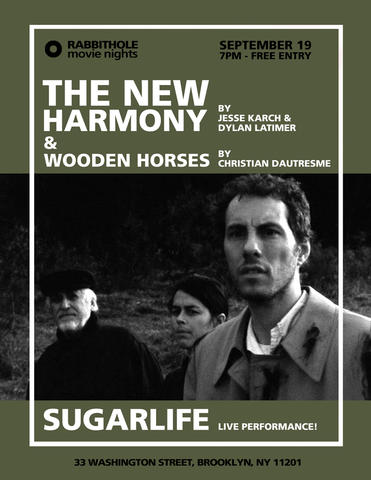 Dear friends,

Save the date for my next and LAST movie night at the Rabbithole! As your Rabbit Movie Night curator for the past 3 years, I am soon leaving the country and am contributing one last time to this amazing space with a special evening. I'm inviting local talents to present their latest films, and we'll have the pleasure to invite our good friend SUGARLIFE to preform live one more time.
7:30pm
SUGARLIFE

Born in France, Sugarlife (Christian Dautresme) is a performance/music artist living in New York City. "It's like watching a cheap live daytime soap in which the main female character unravels onstage. There is usually some sort of molting which follows…" says Sugarlife. "Imagine if the United States became a third world country and people had to resort to living room theatre or decrepit mall theater for entertainment. I'm trying to… manifest the subconscious imagery that inhabits the world of dreams and the world of films by the likes of David Lynch, John Waters, Bunuel, Almodovar and others.
"Sugarlife explores and desecrates the time-based and spatial notions ofperformance art, identity, and sexuality with an entertaining and often absurd interactive, live performance. It tends to be hilarious as well as very scary. Whether charging the air with electronic blips, conjuring up a damaged visitor from the realms of the immortal spirits such as Kazuo Ono and Tatsumi Hijikata, or singing in a celestial soprano, Sugarlife becomes a sonic shaman whose transcendence is the only constant.  Neo-Fluxus freak out? Absurdist action art? The ghost of G.G. Allin as a drag queen from a distant planet? Sugarlife transcends any classification."
8pm
WOODEN HORSES, 2007
short film by Christian Dautresme


8:30pm
THE NEW HARMONY, 2013
feature film by Dylan Latimer & Jesse Karch.

The New Harmony is the story of a corporate ad writer who responds to a small voice deep inside himself and decides to do whatever he can to make the world a better place. This film addresses questions such as: Is poetry useful? Do people live too long? And what happens when a liberal guy goes off the grid? Made in Brooklyn, 2011-2012, 80 minutes long. Starring John Christopher Morton, Mick Collins, Akiva Saunders, Forrest Gillespie, Edgar Oliver and a large ensemble cast.
Thursday Sept 19th, 2013
Free Entry! (donations appreciated)
Opens at 7 pm.
Looking forward,
Caroline Pham (curator)