Wednesday, August 3: ANIMATED ARCHITECTURE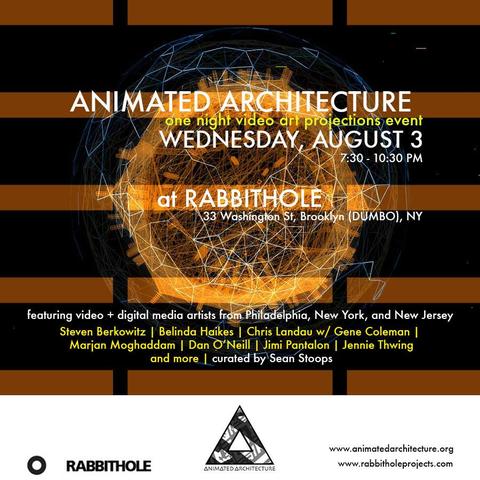 ANIMATED ARCHITECTURE in DUMBO: Video Art Projections Event
Join curator Sean Stoops and video / digital media artists from Philadelphia, New York, and New Jersey for a special one night "Animated Architecture" video art projection event at RabbitholeStudio in Dumbo, Brooklyn. Interior and exterior video installations will be featured.
DATE/TIME: Wednesday, August 3, 7:30 - 10:30pm. Refreshments will be available.
Featuring works by: Steven Berkowitz, Belinda Haikes, Chris Landau w/ Gene Coleman, Marjan Moghaddam, Dan O'Neill, Jimi Pantalon, Jennie Thwing, and more!
The August 3rd event will introduce the Animated Architecture video installation series to Brooklyn, as well as preview future events (which will soon incorporate virtual and augmented reality) in Philadelphia, New York City, and beyond.
BACKGROUND:
Sean Stoops is an independent curator and new media artist based in Philadelphia. Stoops has a MFA in video art and curating from Transart Institute, an international graduate program for new media art (originally in Austria, now based Berlin, Germany and Brooklyn, NY). He earned his BFA in painting and drawing from Tyler School of Art, Philadelphia and studied at Temple University Abroad in Rome, Italy.
Sean Stoops has curated and exhibited at galleries and museums in Philadelphia including: Painted Bride Art Center, Asian Arts Initiative, Rebekah Templeton Contemporary Art, International House and in winter 2011 was visiting curator of "Bird Cages and the Gilded Boat" at the ISE Cultural Foundation, in Manhattan, NYC. Stoops organized and directed mural animated films: "Muralmorphosis" (2009) and "Cosmic Terrarium" (2010), in cooperation with the Mural Arts Program of Philadelphia.
In 2012, Stoops was named as one of thirty-five art project award winners to receive grants that year from the John S. and James L. Knight Foundation, as part of its Knight Arts Challenge, which funds innovative projects that engage and enrich Philadelphia's communities. For the project that launched in 2013, Stoops curated "Animated Architecture: 3D Video Mapping Projections on Historic Philadelphia Sites," a series of site-specific outdoor/indoor video art events, usually held at night and screened at various Philadelphia buildings.