Thu JULY 19th: The Smith/Sternberg Duo (live) + "A Zed and Two Noughts" by Peter Greenaway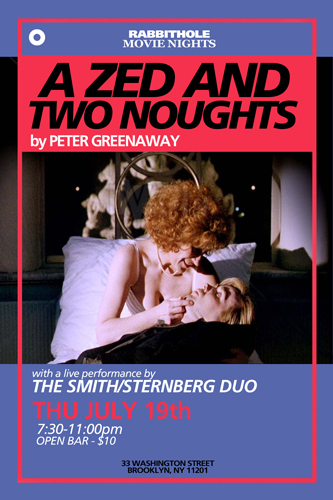 This July Rabbit Movie Night will be screening the strangely beautiful "A Zed and Two Noughts" by controversial British director Peter Greenaway, opened by the "The Smith/Sternberg Duo".
8pm:
THE SMITH/STERNBERG DUO
consists of Linton Smith and Joanna Sternberg. Smith is a trumpeter from New Orleans and Sternberg is a bassist hailing from New York. The group plays jazz music and has been playing together for a year now.
8:30pm:
A ZED AND TWO NOUGHTS
Peter Greenaway's 1985 film is a multi-layered satire playing with the idea of ZOOs, siamese symmetry, Darwin's evolution and the decomposition of the living. Dirty stories, teddy bear songs and legless people take part throughout the outlandish storyline which more or less explored the aftermath of a car crash caused by a large swan, leaving 2 zoologists twin brothers wives-less and obsessed with documenting decay. Admiring Jean-Luc Godard's claim that Jan Vermeer was the true "first cinematographer" with his mastery over the manipulation of light, Greenaway pays an hommage to the great painter by incorporating scenes and lighting inspired by the master's paintings and personal life.
Thursday July 19th, 2012
Door is $10 with Open Bar!
Starts at 7:30 pm.
See you there!